Metrological Services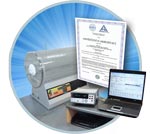 Providing complete deliveries of temperature and pressure measurement, and the control of the metrological characteristics of the supplied instruments are closely related.
In 2004 we extended our calibration services in our own calibration laboratory. Since 2011 our laboratory has been accredited according to standard EN ISO/IEC 17025 by the Czech Accreditation Institute for temperature and pressure calibration. Accreditation also applies to calibrations performed at the place of deployment.
The combined ILAC-CIA mark on calibration certificates guarantees that the calibration certificates issued by our laboratory are recognized in the countries which signed the mutual recognition arrangement. The list of signatories can be found at ILAC (International Laboratory Accreditation Cooperation).
In 2015, the offer of metrological services was further enlarged through the establishment of the Authorised Metrological Centre (AMS), authorised by the Czech Office for Standards (ÚNMZ), Metrology and Testing under the number K145.

Accredited Calibration Laboratory JSP
provides temperature and pressure calibration of following measuring instruments:
Resistance and thermocouple temperature sensors
Digital and dial thermometers
Temperature sensors with transmitter with analogue or digital output signal
Temperature transmitters, displays and regulators
Measuring chains with temperature sensors

Digital and strain gauges
Pressure transmitters with analogue or digital output signal

Ranges:
Temperature gauges: -40 to +1553 °C
Pressure gauges: -95 kPa to 70 MPa
Simulation of temperature sensors: -10 to +100 mV (TC), 0 to 6000 Ω (RTD)
We also offer non calibrated services:
Calibration of temperature simulators

Calibration of

humidity meters

Calibration

of temperature

and

climatic chambers

Measurement of surface thicknesses within range (0 ÷ 2000) mm
Measurement of instant flow of liquids by ultrasonic flow meter



Accreditation certificate with the appendix (Cz):

Authorised Metrological Centre JSP
performs verifying of temperature sensors, temperature sensors with transmitters, pressure and pressure difference sensors intended for:
Heat and cold gauges
Liquid flow gauges and gauge sets
Combined gas totalizers
Authorization for the verification of specified measuring instruments (Cz):