I&C Investment Deliveries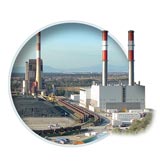 We provide complete deliveries of I&C Systems and cabling mainly consisting in management and implementation of projects, deliveries, assembly, commissioning and service work.
The company goal is to provide the suppliers of complex technological units with economically attractive outsourcing of measurement and control services.
We off er I&C integrated solutions and "turn-key" deliveries of field instrumentation, low-voltage and high-voltage electrical installation and cabling. Part of such a solution could even be the study, project, delivery, assembly and commissioning of indoor and outdoor lighting of a technological unit, including emergency lighting.
We assure optimal solutions according to customer requirements and guarantee a high quality, functionality, reliability, and application safety as well as meeting the deadlines.
We provide all calculations and projects of measuring circuits and process the projects also in 3D AutoCAD. For partners who realize deliveries of investment units all over the world we supply the documentation in required languages.
Our main industrial sectors are:
Power industry

Petrochemical industry

Chemical industry

Heat distribution systems

Cement industry

Gas industry

Glass industry